Here are a few pictures of the first carrier I ever stepped foot on. I made the last 2 cruises with this ship, in '89 & '91. To this day I STILL think by far this is the best ship I've ever been on. Last homeport: Mayport, FL
The USS Forrestal (CV-59)
Click on image to view larger picture

USS Saratoga (CV-60)

I made the last cruise on this ship in 1994.
USS Saratoga was commissioned April 14, 1956 and returned from her 22nd and final deployment to the Mediterranean June 24. The carrier spent 70 days of the 164-day deployment on station in the Adriatic Sea in support of NATO and U.N. operations Deny Flight and Provide Promise in Bosnia-Herzegovina. -USN-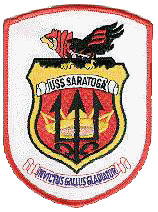 USS Dwight D. Eisenhower (CVN-69)

"I like IKE"

Here's the Mighty Ike leaving Norfolk, on June 10th, 1998.
Here's a shot of beautiful Norfolk......Pier 12: my home away from home.

USS Eisenhower (CVN 69)

IKE Battle Group
A little info:
Dimensions
Length of flight deck: 1,092 ft.

Width of flight deck: 252 ft.

Height keel to mast: 244 ft. (equal to 24-story building)

Area of flight deck: 4.5 acres

Weight of carrier: 95,000 tons

Number of anchors: 2


Weight of anchors: 60,000 lbs each


Anchor chain: 1,082 ft on each anchor (365 lbs per link)


Total anchor weight including chain: 735,000 lbs each

More Pic's to come, as soon as I can find them.

Back