This is my un-official NAVY web page.

The views and opinions expressed within are not necessarily those of the US Navy.

Any man who may be asked in this century what he did to make his life worthwhile,

can respond with a good deal of pride and satisfaction, "I served in the United States Navy."

President John F. Kennedy

AT1(AW) John Caplinger (Ret.)
| | | |
| --- | --- | --- |
| | My last Duty Station | |
| | | |
| | | |
| | Check out some pics of my old squadron: | |
| | | |
| | | |
| | Got your wings? | |
| | | |
| | | |
| | | |
| | | |
| | | |
| | | |
Hi, I recently retired from the United States Navy. My official "job description", or rate was Aviation Electronics Technician. This is my attempt to put 20 years of NAVY experience on a homepage.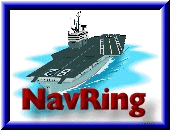 This
NavRing
site is owned by
John Caplinger
.
Click for the [
Next Page
|
Skip It
|
Next 5
]
Want to join the ring? Click here for
info
.
Last updated:Tuesday, September 10, 2002

Copyright © 1998-2002 John Caplinger. All rights reserved.